Like most arts organizations around the world, the Oregon Coast Council for the Arts has been thrown into a difficult financial position due to the COVID-19 pandemic. The Board of Directors has striven to keep staff employed for as long as possible, but with venues and operations still shuttered, we announced last month that all OCCA staff would be laid off as of July 1. 
That news has now changed, for some.
As part of the Oregon Community Foundation's Oregon Arts & Culture Recovery Program, the OCCA has been awarded a grant from the Fred W. Fields Fund for "general operating support in response to the COVID-19 outbreak". With the monies from this award, and with the hope of utilization of the Work Share Oregon program (an alternative to layoffs, which allows employers to leverage unemployment insurance to subsidize a portion of lost wages), four staff members will now stay on, albeit at reduced hours.
"The employees staying on are those most involved in accounting and our online offerings," Board President Akia Woods explained, "We're heartbroken to say goodbye to so many valued members of our OCCA staff team, but we're grateful for this opportunity to save what jobs we can."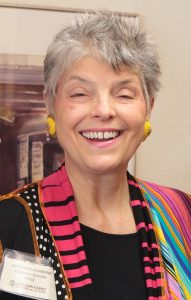 This news comes on the heels of another big announcement: Catherine Rickbone, OCCA's Executive Director of 13 years, announced last month her intention to retire as of July 2, 2020. Rickbone, whose first day was July 1, 2007, explained "I believe this is an excellent opportunity and the appropriate time for me to retire," and that it has "been a privilege and joy to represent OCCA at the local, state, and national levels."
Woods expressed appreciation for Rickbone's "contributions, humor, and dedication over the years," and verified that the Board of Directors will, "soon begin the search for our new Executive Director."
The new Executive Director will work closely with the Board of Directors with regard to the organization's fiscal integrity, revenue development, fundraising, grant writing, campaign development, strategic planning, annual budget, monthly financial statements, resource utilization, membership, community outreach, and fulfilling the OCCA's mission as a Regional Arts Council. The ideal candidate will have a bachelor's degree (or higher) in nonprofit or business management, a minimum of 5-10 years experience in nonprofit management, an appreciation for the arts, and a proven track record of leadership excellence, organizational growth, and fiscal responsibility.
In the meantime, although the Newport Performing Arts Center and Visual Arts Center must remain closed to the public, the OCCA is still very much alive. Outdoor movie nights "under the stars" have been hosted every weekend in June, the Oregon Coast Online Art Show (and sale) continues and now features work by Rick Bartow, new visual arts learning opportunities for youth and adults are in the works, and a new, Online Summer Drama Club for youth begins Monday, July 6th.