"It's Just My Nature" – a new exhibit featuring work by Newport-based multimedia artist Cheri Aldrich – will be on display in Newport Visual Arts Center's COVAS Showcase from April 1 – May 28, 2023.
The exhibit is inspired by, and created with, elements of the natural world. Pieces on display will include found organic items, eco-dyed materials, homemade paper, collage, jewelry, books, vessels, and even kelp pouches. "Themes of nature, and a love of rich textures and layers, are common threads in my work," said Aldrich, "I like to think that I'm celebrating the beauty of nature by enhancing a found object or bringing the observer into a more intimate view that they might have otherwise missed."
Aldrich has been making art full-time since she arrived in Oregon in 1974, and from 1978 to 2001 she and her husband owned and operated Cheri's Gallery at Sea Towne in Newport. These days, Aldrich is pursuing uninterrupted studio exploration. Due to a self-admitted low threshold for boredom, she keeps herself happy by moving from one project to another, often working on several different pieces at the same time.
"Cheri's many years of collecting, reflecting, and creating using objects and elements from nature are an invaluable documentation of the natural environment of Newport," said Chasse Davidson, Director of Newport Visual Arts Center, "She exudes joy and wonder; and her work draws attention to the vast array and bounty of organic materials that surround us, making our coastal home so unique."
An opening reception will take place on April 1st from 2pm-6pm at Newport Visual Arts Center. Aldrich will be on hand to answer questions throughout the reception, and will give an Artist Talk at 3:00 PM in the Upstairs Gallery – where additional pieces of hers are on display as part of the Newport Paper and Book Arts Festival Instructors' Show.
Exhibits at Newport Visual Arts Center (VAC) are free to the public and can be viewed most Wednesdays through Saturdays, from 12:00 PM – 4:00 PM, at 777 NW Beach Drive in Newport. However, please note that the VAC will be closed the week leading up to this exhibit, and will reopen to the public on Saturday, April 1st when the reception begins at 2:00 PM.
---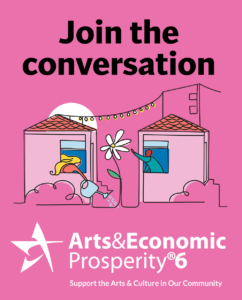 While you're at the VAC, don't forget to join the conversation!
Through May of 2023, we're measuring the impact of non-profit arts and cultural institutions in Lincoln County, as part of Americans for the Arts' Arts & Economic Prosperity Study 6—the nation's largest, most comprehensive study of the Arts & Culture sector…and you can help! When you attend this event, please complete an "AEP6" survey before you leave the building (and every time you attend an event or exhibit at the VAC). 3 minutes, 13 questions, totally anonymous. Look for the iPad located in the lobby, or ask a volunteer or staff member for a paper copy.
To learn more about this incredible study, and what makes it so important, click here.