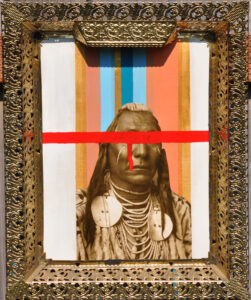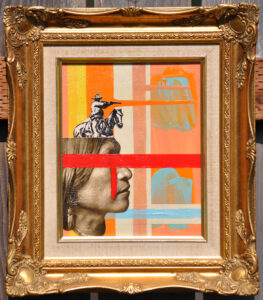 An Electrifying Fusion of Past and Present 
Oregon Coast Council for the Arts is honored and excited to present Native contemporary mixed-media artist Leonard Harmon's first solo exhibition, "This One's for You" Honoring Ancestors, in the Upstairs Gallery at the Newport Visual Arts Center April 21st – May 28th, 2023. This exhilarating new show features a variety of mediums and styles.
A citizen of the Lenape Tribe of New Jersey and the Nanticoke Tribe of Delaware, Harmon currently resides on Confederated Tribes of Siletz Indians reservation in Siletz. In this exhibit, he showcases a convergence of cultural traditions and contemporary social justice issues, imbuing his pieces with themes of heritage, blood quantum, and honoring and thankfulness for the artistic traditions that have been passed down. The unfinished works of his namesake uncle, Leonard Allen Harmon, propel him forward with confidence in knowing that continued artistic expression is his legacy.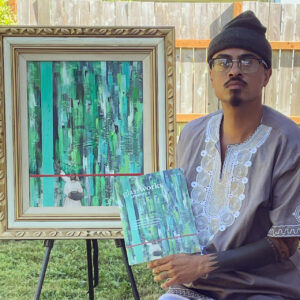 His show includes bold color choice and composition through paintings and mixed media sculpture.
"We're thrilled to recognize, celebrate, and share the expressions of up-and-coming local artist Leonard Harmon," said Chasse Davidson, Director of the VAC, "Through deep bonds of respect and honor for those who came before, Harmon's work fuses Native artistic traditions, social issues, and struggles of the past and present with his own presentation and contemporary style."
An opening reception will take place on Friday, April 21st, from 6-8pm.
Light refreshments will be served.
---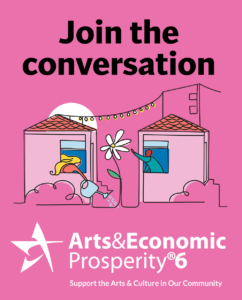 While you're at the VAC, don't forget to join the conversation!
Through May of 2023, we're measuring the impact of non-profit arts and cultural institutions in Lincoln County, as part of Americans for the Arts' Arts & Economic Prosperity Study 6—the nation's largest, most comprehensive study of the Arts & Culture sector…and you can help! When you attend this event, please complete an "AEP6" survey before you leave the building (and every time you attend an event or exhibit at the VAC). 3 minutes, 13 questions, totally anonymous. Look for the iPad located in the lobby, or ask a volunteer or staff member for a paper copy.
To learn more about this incredible study, and what makes it so important, click here.