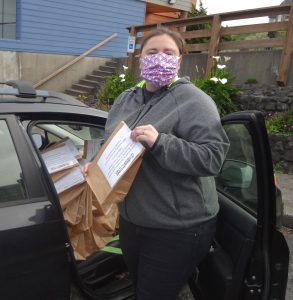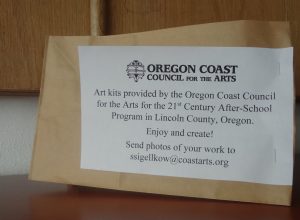 During the 2020 academic school year, OCCA has been providing four-week art learning sessions for the 21st Century After School Program held at Sam Case Elementary in Newport. The  21st Century Program, a federal initiative, serves homeless and at-risk youth, and during the fall and winter Sara Siggelkow, OCCA's Arts Learning Coordinator, and her team of volunteer class assistants, brought engaging and hands-on art lessons to the 30-35 students who attend the classes on early-release Wednesdays. These efforts have been funded through a generous grant from the US Bank.
Come COVID-19, April and remote-learning developments, OCCA decided to get creative and put together "Art Kits" for distribution to the 21st Century students. Siggelkow and Janet Webster, chair of the VAC Youth Arts Advisory Board, put together a program that is having the Art Kits delivered once a week for four weeks – with the theme of "maps." Other volunteers, including Veronica Lundell and Cathey Briggs, have been helping to assemble the art kits prior to delivery.
Each week there are new book pages delivered, along with a creative challenge and the materials needed to complete the challenge. All of the materials are for the kids to keep. The kits are being delivered to each student's house (31 students) by McKenzie Purdom, the 21st Century program coordinator at Sam Case Elementary.
All four weeks the kits have the following pages: a tab, a colorful page, a notebook page, four sheets of drawing/sketching paper, plus pages specific to each week's challenge. The book itself is made from a recycled file folder and brads that the kids created during their first week.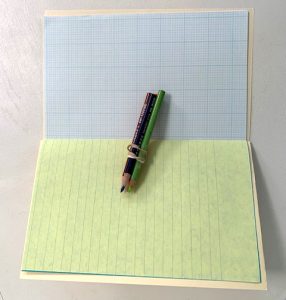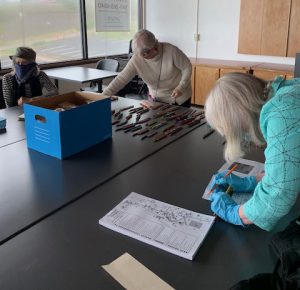 Week 1 was about pattern (repeating lines) and the parts of a map (key, scale, boarder). The challenge-specific materials were three sheets of graph paper and four colored pencils. The challenge was to draw 8 repeating patterns, draw a map of where you live (sleep, eat, play), make a key using color and pattern to label the items, measure the distance between three items on the map using their own unit of measure (for example your hand), and make a boarder for your map. See the challenge as a PDF here.
Week 2 is about texture (actual and implied) and texture plates. The challenge-specific items are 2 pages of lightweight paper, 5 crayon pieces and 2 pieces of foam to make texture plates. The challenge is to make rubbings of four different items, experimenting with single colors and multiple colors. Make a texture plate with a dull pencil and a piece of foam and make rubbings using it. Make a map of your favorite place, using texture to represent the different areas of the map, and include a key. See the challenge as a PDF here.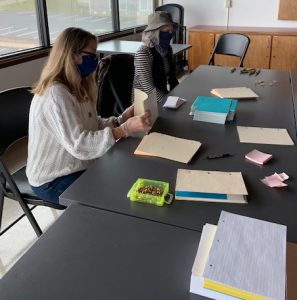 Week 3 is all about shapes, both geometric and organic – how shapes combine to make objects and what a portrait represents. The challenge-specific items are a tangram and puzzles. The challenge is to draw geometric and organic shapes, and then objects combining these shapes. Using someone in their home as a model, students draw an ear, thumb and eye. Then they draw a complete portrait. Students solve three tangram puzzles and make their own puzzle. More fun ensues in the upcoming weeks.
Week 4 will be combining all of the skills to making a treasure map. Plus, there will be pieces of actual maps and other papers to collage on the book cover.
McKenzie Purdom of the 21st Century program reports that the kids are very excited about the Art Kits and their Art Challenges. The next Art Challenge: have the kids take photos of their works and email them back to OCCA.