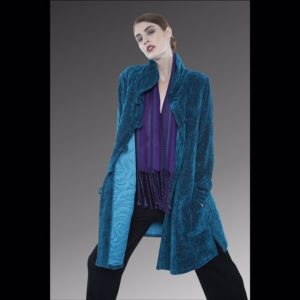 Karen Gelbard, The Oregon Weaver, specializes in designing and producing hand woven jackets and scarves. In her studio on the Oregon Coast, Karen creates classically styled garments. Her scarves, with themes such as, "Driftwood" or "Grasses of Summer," are well known as color landscapes of the Pacific Northwest.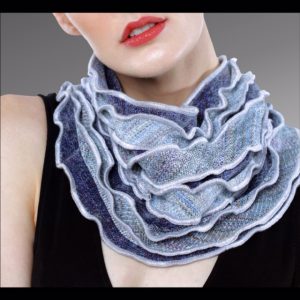 After Karen graduated from the University of Kansas with a Bachelor of Fine Arts degree in Design in 1974, she focused her creative energies on color and texture using fiber. She has gone on to demonstrate her weaving and clothing design skills in schools, classes and museums across the country. Karen is one of the artists who help with the on-going restoration of historic Timberline Lodge on Mt. Hood in Oregon. Since 1979, she has woven over 290 yards of upholstery fabric for the lodge in the style of the original artisans.
In 1984, Karen was commissioned by Larry Kirkland to assist in the design and fabrication of 44 rugs in the main lodge at Sunriver Lodge in Bend, Oregon. Karen's fabrics were used in the original costumes designed by Susan Lily for a production of Arthur Miller's, "The Crucible", performed in Portland, Oregon in 2001.
Karen's work can be seen at juried art fairs and galleries in Oregon, Washington, California, Utah, Missouri and Illinois.