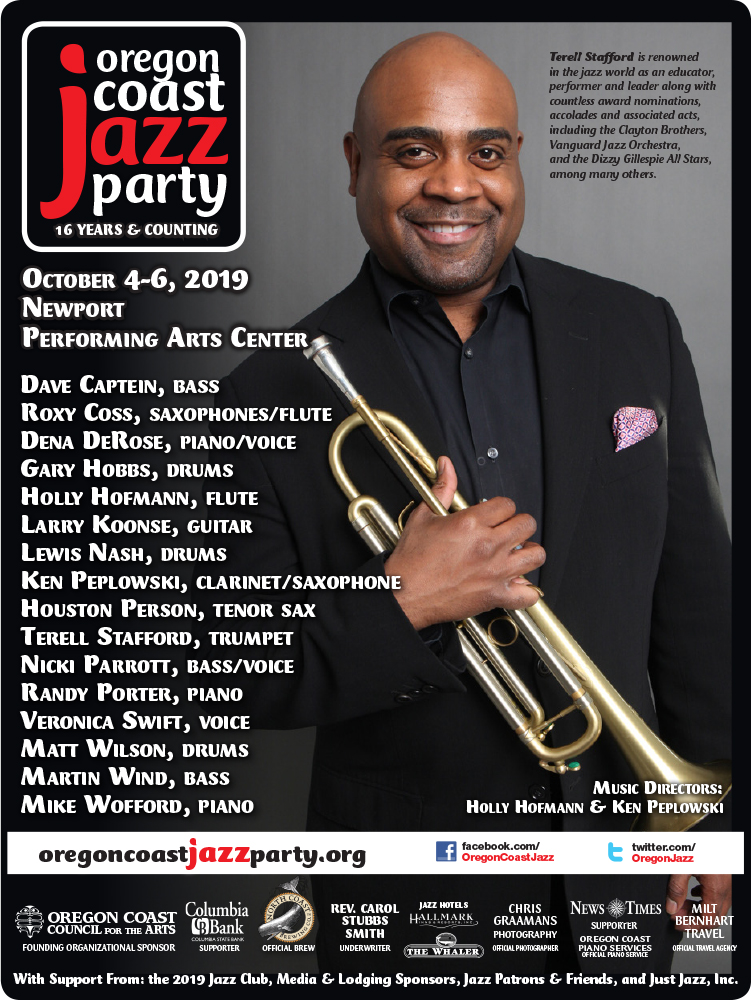 Save the dates: October 2-4, 2020 marks the 17th annual Oregon Coast Jazz Party! Oregon Coast Council for the Arts celebrates 17 years with the party, which is held at the Newport Performing Arts Center in Newport.
The Oregon Coast Jazz Party celebrates great live jazz – and the dedicated fans who love it – in the beautiful town of Newport, on the central Oregon coast. Expect multiple sets from renowned jazz stars, nightcap performances, and educational events during your stay.
Music directors Holly Hofmann and Ken Peplowski, both of whom also performed, presented a 2019 roster featuring Roxy Coss on soprano sax, tenor sax and flute, Dena DeRose on vocals and piano, guitarist Larry Koonse, drummer Lewis Nash, Houston Person on tenor sax, Terell Stafford on trumpet, Nicki Parrott on bass and vocals, pianist Randy Porter, vocalist Veronica Swift, drummer Matt Wilson, bassist Martin Wind, pianist Mike Wofford, Dave Captein on bass, and Gary Hobbs on drums.
OCCA is the founding organizational sponsor of the event, and partners with local businesses and more than 75 volunteers in its production.