The Oregon Coast Council for the Arts presents "A Sense of Place in the Pacific Northwest," an exhibit of work by Corvallis-based artist Greg Pfarr, originally set for display Oct 21 – Nov 28 in the Runyan Gallery at the Newport Visual Arts Center. Due to statewide bans in place to limit the spread of the Covid-19 virus, the Newport Visual Arts Center has closed temporarily, so OCCA displays this exhibit online here. The exhibit includes Pfarr's large-scale paintings, prints and drawings reflecting on the high-country drama of the Cascades Mountain Range and Alaska.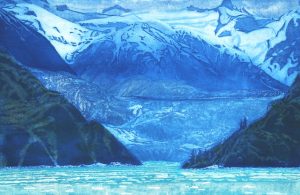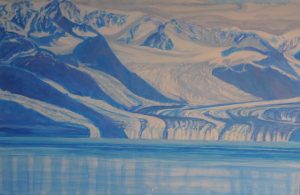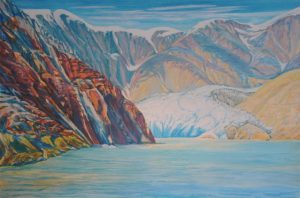 The following paintings and etchings by Greg Pfarr are  available for purchase through the Oregon Coast Council for the Arts (click each to enlarge, or view images in gallery format here). For more information, contact OCCA VAC Director Tom Webb at 541-265-6569 or twebb@coastarts.org. Additional images to be added and are available upon request. Thank you for your support.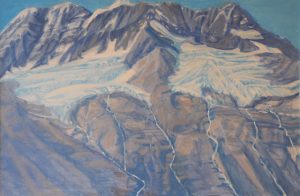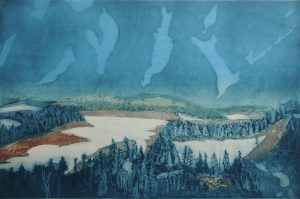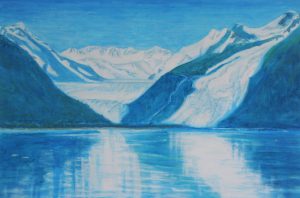 Pfarr's work was recently honored by the Oregon Arts Commission with an exhibit at the Oregon Governor's Office (August-September 2019), considered to be a lifetime achievement for artistic excellence. Some of the same works will be on exhibit at the VAC.
Nature and wilderness have always been important to Pfarr, who has backpacked in the Cascades for decades, returning to his studio to complete his work. Many of his prints and paintings reflect this interest.
"I like to witness severe climate and landscapes, around six to eight thousand feet," Pfarr said on a recent podcast on KLCC radio. "It's almost a spiritual exploration. The forms of nature at that level can be quite varied, and they can be both abstract and realistic. I like to play off that tension." In recent years Pfarr has also been able to make several trips to Alaska to gather subject matter for a series of paintings, prints and drawings focused on glaciers.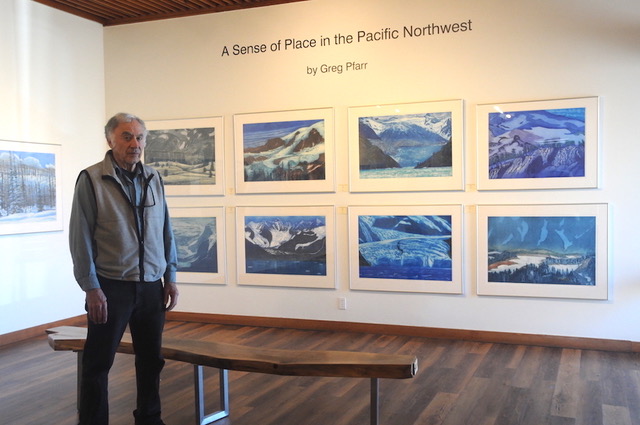 Pfarr writes that he is drawn to the painting, drawing and printmaking media because he can enjoy the cross fertilization of ideas and techniques working with diverse media. "In all three I work directly on the surface using methods that are spontaneous and kinesthetic. I often employ gestalt, randomness and unusual points of view. I also frequently minimize the conventional spatial cues of foreground, middle ground and distance that are common in conventional landscapes. I hope to challenge conventional notions of realism and abstraction to emphasize the power, strength and beauty of natural forces as manifested in the wilderness."
After being discharged from the army in 1968, Pfarr received his BFA in painting, drawing and printmaking, and his MFA in printmaking and painting, from Ohio State University. In 1980, he moved to Oregon with his wife, who taught rhetoric and writing at Oregon State University. Pfarr has taught at a variety of post-secondary institutions, including Chemeketa Community College and OSU, but his primary commitment has been to his art.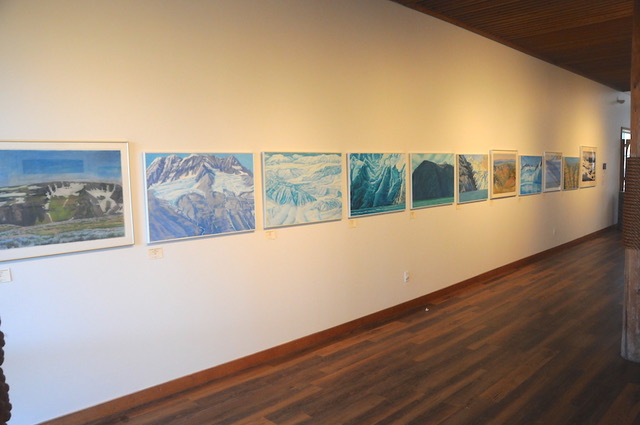 "I am fortunate to own (or rather to be a caretaker of) a Ray Trayle press and thus am able to print in my home studio," Pfarr says. Besides work on the Cascades and high-altitude glaciers, his other subject matter has included the urban/rural interface, burned forests, glaciated valleys and expansive skies.
Since 1990, Pfarr's work has been exhibited widely in solo and group shows nationally, including the Portland Art Museum, the Museum of Art Downtown Los Angeles and the First Street Gallery in New York City. His work is in the permanent collections of the China National Academy of Arts, the New York Public Library and the Hallie Ford Museum of Art at Willamette University, among other locations.
For more information, visit the artist's website at http://www.gregpfarr.com/.
The Runyan Gallery is open Wednesdays and Saturdays, 12pm – 4pm