oregoncoasthistory.org/2023/07/11/the-man-from-agate-beach-the-legacy-of-ernest-bloch/
The Man from Agate Beach:
The Legacy of Ernest Bloch
July 21-23, 2023
The Ernest Bloch Society announces an upcoming program at the Pacific Maritime Heritage Center on the life and times of Ernest Bloch. This creative spirit was a musician, composer, conductor, philosopher, and photographer. He was also known for his mushroom hunting forays and his penchant for finding and polishing agates.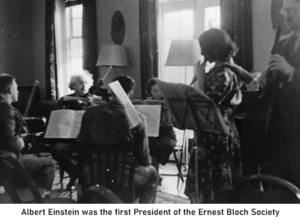 Everyone is invited to learn more about the composer, his life in music, his photography, and more. This free program is scheduled for Friday, July 21, and Saturday, July 22. Friday's program runs from 4 to 7. Saturday is from 1 to 4. These events are at the Pacific Maritime Heritage Center at 333 SE Bay Boulevard in Newport. No reservations are necessary. Friday, July 21 and Saturday, July 22 will feature the same content except for two separate lectures by Dr. Alexander Knap, who is flying in from London to help us plan for the Bloch Sesquicentennial in 2030. Friday's lecture is entitled "Musical Style in Bloch's 'Agate Beach' Works." Saturday's lecture is entitled "The Piano Music of Ernest Bloch"
The Friday and Saturday programs include an early viewing of the display of Ernest Bloch's photography, The Story of a Sculpture and why the Renaissance Christ hung in every home the Blochs ever lived, and three videos created by Eric Johnson joining Bloch's music to his photography. The display will open on July 20 and continue through November 12.
The program will also unveil the next in a long series of videos in the Ebb & Flow Series – "The Bloch Legacy." Also featured will be a video created by our own Lincoln County Commissioner, Casey Miller, featuring the voice of David Ogden Stiers.
The conclusion of the four day event will be a "no host" Ernest Bloch Dinner at the Best Western Plus Agate Beach from 5 to 8 on Sunday, July 23. To reserve a place at the dinner please call 541-961-1482 or 719-310-6500.
To learn more, visit the Pacific Maritime Heritage Center website: www.oregoncoasthistory.org
---
Ernest and Marguerite Bloch lived in Agate Beach from 1941 to 1963. Ernest died in 1959, Marguerite in 1963. In 1976 the Governor of Oregon accompanied by Bloch's three children dedicated the Ernest Bloch Memorial in a wayside in Agate Beach near the home in which the Bloch's lived. Later, in 2009, fifty years after Bloch's passing, the Newport City Council dedicated "Ernest Bloch Place" at 49th Street. The Bloch Memorial was temporarily moved to the Newport Performing Arts Center in 2008. Then in 2017 the State of Oregon named the wayside near the Bloch home the Ernest Bloch Memorial Wayside. In July 2018 Ernest Bloch Place was expanded and dedicated along with the Ernest Bloch Memorial Wayside. Ernest Bloch Place now features an Ernest Bloch Monument, five benches, an Interpretive Sign, and a marker noting the Lincoln County Historical Society sponsorship of the site.
---
"Who was this man, this giant of 20th Century music, who lived among us, unnoticed for so long?" Much has been written about composer Ernest Bloch over the past century, beginning with his move to the United States in 1916 from his home in Geneva, Switzerland. Fast forward to the summer of 1941 when he found himself stranded on Highway 101 as he was returning from teaching music theory at UC Berkeley. Finding himself in Agate Beach he wandered the area and came upon a house for sale on a bluff overlooking the Pacific Ocean.
In the gap between 1916 and 1942 Bloch had taken a path from New York's Mannes School of Music, London Chamber Orchestra, the Cleveland Institute of Music, the San Francisco Conservatory of Music, a sabbatical in his native land, UC Berkeley, and Agate Beach. His was a storied history filled with organizations (Library of Congress, London Symphony Orchestra, Boston Symphony Orchestra, Philadelphia Symphony Orchestra, San Francisco Symphony Orchestra, Baltimore Symphony Orchestra, BBC Symphony Orchestra, Juilliard School of Music and numerous others) world centers (New York, London, Tel Aviv, Chicago, Philadelphia) and giants of the 20th century, including Albert Einstein, Rafael Kubelik, Leonard Bernstein, Claude Debussy, Jascha Heifetz, Diego Rivera, Georges Szell, Serge Koussevitzky, Frida Kahlo, Griller Quartet, Zara Nelsova, Yehudi Menuhin, Isaac Stern, Igor Stravinsky, Sir Adrian Boult, Ansel Adams, the BBC, and more.
---
Alexander Knapp is a freelance musicologist, ethnomusicologist, lecturer, consultant, teacher, composer and pianist. From the late 1960s to the present day, Alex has researched, published and lectured extensively in the UK, USA, many parts of Western and Eastern Europe, Israel, Western Russia, Eastern Siberia, and China, on the subject of Jewish music, and especially on the life and works of composer Ernest Bloch. He contributed substantially to a volume entitled Ernest Bloch Studies (2016) that he co- edited for Cambridge University Press. Among numerous other articles, he has written entries on aspects of Jewish art music for The New Grove Dictionary of Music and Musicians (Second Edition). He organized and directed the First International Ernest Bloch Conference in Cambridge in 2007, and lectured at the First Beijing International Ernest Bloch Conference in 2010.
Joining Dr. Knapp will be Dr. Frank Geltner, Flamekeeper of the Ernest Bloch Legacy Project since 2005; Greg Steinke, founder of the Ernest Bloch Music Festival, 1990 to 2005; Eric Johnson, author of "Ernest Bloch: A Composer's Vision;" and Suzanne Bloch Boyer, Ernest Bloch's Great Granddaughter.
Eric Johnson, in 1972 wrote "Ernest Bloch: A Composer's Vision" for Aperture Magazine  on his discovery, printing and research of Ernest Bloch's photography. The story of photographer Ernest Bloch includes W. Eugene Smith, who listened to Bloch's music and said "somebody needs to find out about his photographs;" Alfred Stieglitz, who in 1922 was very pleased that Bloch saw music in his photographs of clouds; and Bloch's children, Suzanne, Ivan and Lucienne Bloch-Dimitroff, and Ansel Adams who made it possible for the Ernest Bloch photo collection to be archived at the Center for Creative Photography at the University of Arizona in Tucson, AZ.