Dmitri Matheny Group featuring Holly Pyle
The Brazil Project
Bossa Nova…and Beyond
July 14 @ 7pm
Newport Performing Arts Center
Join Holly Pyle, Dmitri Matheny, and their all-star band at Newport Performing Arts Center for a musical journey to Brazil and a fresh spin on jazz samba, bossa nova, and more!
The Dmitri Matheny Group is comprised of some of the most accomplished musicians in the Western United States, featuring Los Angeles-based vocalist Holly Pyle, the Portland rhythm section of Mike Horsfall piano and vibraphone, Eric Gruber on bass, Michael Raynor on drums, and Dmitri Matheny on flugelhorn. The DMG presents over 100 performances on tour each year and has received critical acclaim for their recordings and performances throughout North America, Europe, and Asia.
Box Office:
Tues-Fri, 10am-5pm
(541) 265-ARTS
---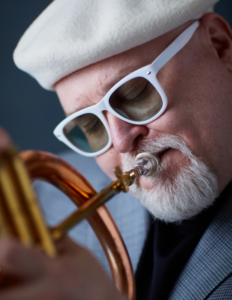 Celebrated for his warm tone, soaring lyricism and masterful technique, American musician Dmitri Matheny has been lauded as "one of the most emotionally expressive improvisers of his generation" (International Review of Music). First introduced to jazz audiences in the 1990s as the protégé of Art Farmer, Matheny has matured into "one of the jazz world's most talented horn players" (San Francisco Chronicle). Matheny has traveled to 21 countries and performed with many Motown and popular music acts, including the Temptations, Martha Reeves, Fabian, the Four Tops, Bobby Vinton, Sandy Patty, Bobby Rydell, Frankie Avalon, and the O'Jays.

---
Known for her "soulfully graceful, liquid-like voice" (New Times), classically-trained Los Angeles vocalist Holly Pyle tours and performs with leading Americana and jazz artists, and appears regularly as a solo a cappella act, using electronic looping to build masterful sonic creations.