Get ready for a HOT night of jazz in the cool, intimate setting of the David Ogden Stiers Studio Theatre…
Oregon Coast Council for the Arts presents Gypsy Jazz quartet Hot Club of Beachtown. Get ready for a toe-tapping evening of vocal and acoustic swing jazz. Enjoy Gypsy Jazz classics, standards from the swing era, and modern swing. (You may even hear a few novelty numbers!)
Band members Jim Kuoni (vocals, guitar), David M Jones (vocals, guitar), David *Peanut* Ousele (violin), and Don Nelson (bass) have been performing music for most of their lives, with many swing, rock, jazz, and country bands under their collective belts. Initially a collaboration between Kuoni and Ousele, the addition of Jones and Nelson led the ensemble to achieve a richer and more complete sound.
ABOUT THE MUSICIANS
Jim Kuoni, guitarist and vocalist, has worked in Gypsy Jazz and bluegrass music groups, and also as a solo artist.
David  M Jones, guitarist and vocalist, got his start in bluegrass music and is a founding member of Past Forward.
Don Nelson has been a professional bassist his entire adult life, in styles ranging from rock to jazz, bluegrass, classical music, and Broadway shows.
David Ousele (aka "Peanut") is new to the Gypsy Jazz scene at the coast, but he's been playing violin since he was a kid. (He was called Peanut then, too!)
---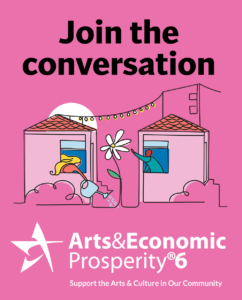 While you're at the PAC, don't forget to join the conversation!
Through April of 2023, we're measuring the impact of non-profit arts and cultural institutions in Lincoln County, as part of Americans for the Arts' Arts & Economic Prosperity Study 6—the nation's largest, most comprehensive study of the Arts & Culture sector…and you can help! When you attend this event, please complete an "AEP6" survey before you leave the building (and every time you attend an event or exhibit at the PAC). 3 minutes, 13 questions, totally anonymous. Look for the iPads located in the lobby, or ask an usher for a paper copy.
To learn more about this incredible study, and what makes it so important, click here.
---