Love, Lies, and Laughter…
National Theatre Live 2022
Much Ado About Nothing
by William Shakespeare
directed by Simon Godwin
Captured live from the National Theatre stage.
Oregon Coast Council for the Arts (OCCA) is pleased to announce that it will present National Theatre Live's production of Shakespeare's timeless comedy, Much Ado About Nothing, on screen in HD at the Newport Performing Arts Center (PAC) on Friday, April 28, 2023, at 7:00 pm.
One of William Shakespeare's most engaging and irresistible comedies, Much Ado was written around 1859 and included in the First Folio, published in 1623. This new production takes place on the Italian Riviera, where the legendary family-run "Hotel Messina" has been visited by artists, celebrities, and royalty. But when the owner's daughter weds a dashing young soldier, not all guests are in the mood for love. A string of scandalous deceptions soon surround not only the young couple, but also the adamantly single Beatrice and Benedick.
Katherine Parkinson (The IT Crowd, The Kennedys) and John Heffernan (Dracula, The Crown) lead the cast in Shakespeare's romcom of sun, sea, and mistaken identity. The incomparable Simon Godwin directs, following the award-winning success of National Theatre Live's Romeo & Juliet, Twelfth Night, and Antony and Cleopatra.
National Theatre Live brings the best of British theatre to cinema screens around the world. Each broadcast is filmed in front of a live theatre audience using state-of-the-art filming techniques.
---
Thank you to Porthole Players for sponsoring OCCA's National Theatre Live season!
Porthole Players ~ Fostering creative and performing arts in Newport for over 40 years.
---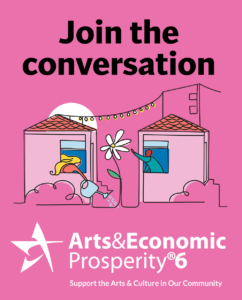 While you're at the PAC, don't forget to join the conversation!
Through May of 2023, we're measuring the impact of non-profit arts and cultural institutions in Lincoln County, as part of Americans for the Arts' Arts & Economic Prosperity Study 6—the nation's largest, most comprehensive study of the Arts & Culture sector…and you can help! When you attend this event, please complete an "AEP6" survey before you leave the building (and every time you attend an event or exhibit at the PAC). 3 minutes, 13 questions, totally anonymous. Look for the iPads located in the lobby, or ask an usher for a paper copy.
To learn more about this incredible study, and what makes it so important, click here.