April 13 & 14, 9am-4:30pm (lunch break 12-1pm)
Location TBD
Artists of any and all skill levels are invited to take part in this unique two day workshop with Chicago-based artist Shawn Sheehy.
Pop-ups are dimensional and come to life when a page is turned. Moveables are flat and come to life when a tab is pulled. Both strategies alone can animate a page; combining the two can make the animation even more exciting. In this workshop you will assemble and explore a variety of applied foundational structures for paper engineering. (Applied: Use a flapping structure to pop-up a flying bird) You will bind the collected structures into a simple case.
Cost: $260 (materials included)
Class size limited to 16 participants
This workshop is offered as part of the Newport Paper and Book Arts Festival
---
ABOUT THE INSTRUCTOR…
Shawn Sheehy has been teaching book arts courses and workshops since 2001. His broadsides and artist book editions have been collected by such prestigious institutions as Sandford, Carnegie Mellon, University of Chicago, Library of Congress, UCLA and Harvard. His pop-ups have been featured twice in both Hand Papermaking magazine and Vintage magazine. Sheehy's pop-up book Welcome to the Neighborhood was published in 2015 and his pop-up book Beyond the Sixth Extinction was published in October 2018: both through Candlewick, and both winning numerous awards. He holds an MFA in the Book Arts from the Columba College Chicago. Visit him at shawnsheehy.com
Shawn will be giving an Artist Talk: "Politics, Extravagant Medium: The Pop-Up Books of Shawn Sheehy" on Thursday, April 13th, from 5pm-6:30pm at the Newport Performing Arts Center.
---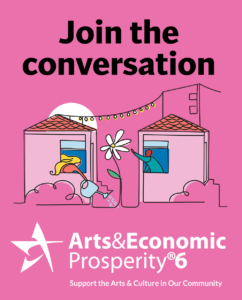 While you're at the VAC, don't forget to join the conversation!
Through May of 2023, we're measuring the impact of non-profit arts and cultural institutions in Lincoln County, as part of Americans for the Arts' Arts & Economic Prosperity Study 6—the nation's largest, most comprehensive study of the Arts & Culture sector…and you can help! When you attend this event, please complete an "AEP6" survey before you leave the building (and every time you attend an event or exhibit at the VAC). 3 minutes, 13 questions, totally anonymous. Look for the iPads located in the lobby, or ask a volunteer for a paper copy.
To learn more about this incredible study, and what makes it so important, click here.