The Oregon Coast Council for the Arts presents the exhibit, Rain or Brine: First exhibition of paintings by coastal plein air parents by Newport-based artists Emy Syrop and Khara Ladonne from June 4 to June 26 in the COVAS Gallery at the Newport Visual Arts Center.  Emy Syrop and Khara Ledonne are plein air artists who weave painting and parenting with determined finesse.  Undaunted by the caprices of both coastal weather and their four young companions, they set up easels on the edge of the sea to capture the landscape.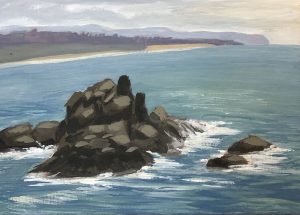 Syrop comes from a background of marine biology while Ledonne comes from commercial and fine arts.  Outdoors they primarily work in gouache – a fast-drying medium with dense pigmentation.  They met in the fall of 2021 and soon began painting at beaches and outcroppings along the coast.  This is their first showing together.
Khara Ledonne grew up in the Pacific Northwest and received a BFA from Cornish College of the Arts.  She worked as a muralist and sign painter for 12 years in NYC before returning to the west coast and focusing on fine art, primarily enamel miniatures.  Her murals sprinkle the globe from Italy to Dubai to Mexico, and her miniatures have been collected in over 25 countries.  She lives in Newport where her current work centers on plein air landscapes.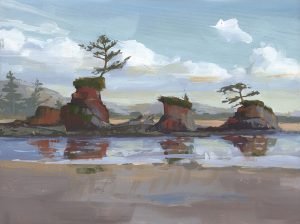 The Newport Visual Arts Center adheres to all health and safety protocols provided by the Governor's Office as well as the City of Newport. All visitors to the VAC are recommended, though not required, to wear proper masks.
The Oregon Coast Council for the Arts manages the Newport Visual Arts Center and the Newport Performing Arts Center, and serves as the regional arts council for Oregon's seven coastal counties.