The Oregon Coast Council for the Arts presents the exhibit, Rocking by Czech-born, Portland-based artist Jana Demartini from June 4 to July 31 in the Upstairs Gallery at the Newport Visual Arts Center.   Demartini has put together an exhibit which marks her return to previous work about body-landscape. "I missed the beach so I started creating it from memories," said Jana. "It dawned on me that rocks, the oldest, most durable, solid feature of our world can be my stimulant…in these difficult, stressful times." The exhibit will feature 17 pieces, primarily pastels, a medium the artist enjoys working with due to how "time forgiving" they are.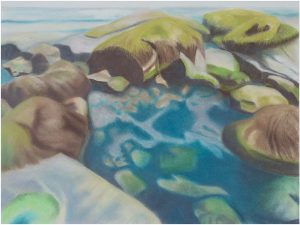 The Newport Visual Arts Center adheres to all health and safety protocols provided by the Governor's Office as well as the City of Newport. All visitors to the VAC are recommended, though not required, to wear proper masks.
The Oregon Coast Council for the Arts manages the Newport Visual Arts Center and the Newport Performing Arts Center, and serves as the regional arts council for Oregon's seven coastal counties.