March 24 – April 3, 2023
Directed by Mary Eastman
Starring Marc Maislen
Eric Bogosian's "Sex, Drugs, Rock & Roll" brings to life ten hilarious separate oddball characters in a one-man show. This profane, raunchy, and smart performance piece sinks its teeth deep into 80's America, reflecting society's masculine, hedonist values.
Maislen captures each different character in their timeless truth, and we are taken along on this comic, tragic, insane, and raucous ride.
For mature audiences.
---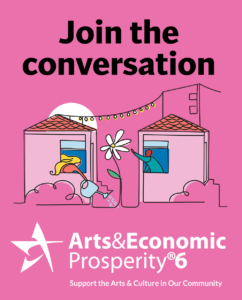 While you're at the PAC, don't forget to join the conversation!
Through May of 2023, we're measuring the impact of non-profit arts and cultural institutions in Lincoln County, as part of Americans for the Arts' Arts & Economic Prosperity Study 6—the nation's largest, most comprehensive study of the Arts & Culture sector…and you can help! When you attend this event, please complete an "AEP6" survey before you leave the building (and every time you attend an event or exhibit at the PAC). 3 minutes, 13 questions, totally anonymous. Look for the iPads located in the lobby, or ask an usher for a paper copy.
To learn more about this incredible study, and what makes it so important, click here.