School's out? Drop in!
Thursday, April 20th & Friday, April 21st
From 1:00pm – 4:00pm
In honor of Earth Day, spend an afternoon (or two!) at the Newport Visual Arts Center, turning trash into treasure, as you create unique works of art from materials that would normally end up in a landfill. This is a free drop-in workshop. No registration is required.
Please note: This workshop has recently been opened up to ALL ages. Youth under 6 must be accompanied by an adult.
---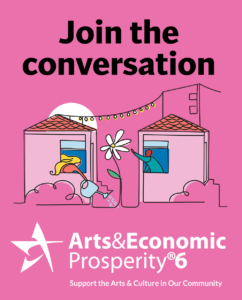 While you're at the VAC, don't forget to join the conversation!
Through May of 2023, we're measuring the impact of non-profit arts and cultural institutions in Lincoln County, as part of Americans for the Arts' Arts & Economic Prosperity Study 6—the nation's largest, most comprehensive study of the Arts & Culture sector…and you can help! When you attend this event, please complete an "AEP6" survey before you leave the building (and every time you attend an event or exhibit at the VAC). 3 minutes, 13 questions, totally anonymous. Look for the iPads located in the lobby, or ask a volunteer for a paper copy.
To learn more about this incredible study, and what makes it so important, click here.