Step into a facet of your own personal dreamscape with the Grammy award-winning chanteuse, Rizo. 
Using the portal of glamor, seduction, and powerhouse vocals, Rizo welcomes you into her prismatic world where the femme divine reigns. A joyful, sensorial, combustible mix of rock and roll bravado, vintage pop diva, and comedic antics, Rizo has won a cult following worldwide. Come join the fun for an evening of radical optimism as she holds the beauty and sorrow of life in her tiny hands.
---
The New York Times once referred to Rizo as "SENSATIONAL… A fierce but kindhearted fusion of comedy, burlesque, performance art and rock 'n' roll." Taking a cue from Piaf, Rizo (né Amelia Zirin-Brown) fully embraces the role of chanteuse. In recordings, she is a mysterious figure, a siren ushering you through tableaus of heartbreak, lust, and the murkiness in between. Live, she is an eyeful.
An international cult favorite, her stage shows bring her powerhouse vocals together with seductive storytelling and wild hilarious audience experiments.  Rizo is a provocateur with an electric wit, and has been called a "diva par excellence" by The Guardian. In the studio she has collaborated with Moby, Reggie Watts, and Yo-Yo Ma; whose album Songs of Joy & Peace, which features Rizo, won a Grammy Award.
Rizo has also received a New York Foundation for the Arts Fellowship, a Time Out London theater award, and a London Cabaret Award. Currently starring in the role of Madame Zinzanni in the revival of the much beloved Teatro ZinZanni and is in development for a television project with Michael Carbonaro of the popular series "The Carbonaro Effect."
---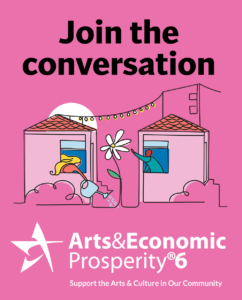 While you're at the PAC, don't forget to join the conversation!
Through May of 2023, we're measuring the impact of non-profit arts and cultural institutions in Lincoln County, as part of Americans for the Arts' Arts & Economic Prosperity Study 6—the nation's largest, most comprehensive study of the Arts & Culture sector…and you can help! When you attend this event, please complete an "AEP6" survey before you leave the building (and every time you attend an event or exhibit at the PAC). 3 minutes, 13 questions, totally anonymous. Look for the iPads located in the lobby, or ask an usher for a paper copy.
To learn more about this incredible study, and what makes it so important, click here.
---