COVAS Showcase
Based in Yachats, Rasa Clay Works is a ceramic studio exploring new techniques, and featuring work that is almost exclusively functional. Their pottery is wheel-thrown utilizing stoneware or porcelain clay, with hand-formulated, raw earthen glazes. In their collective statement, the artists mention they "love how pottery is an easily accessible and relatively inexpensive art form that can be used in our daily lives, bringing beauty and a profound pleasure of interacting with something made by human hands for human living."
From the artists…
The first idea that comes when longing to be an artist, is that if we made that one amazing sculpture, pot or painting that knocked your socks off, we would fulfill our place in the world.
It turns out that an artist is not about what one creates but about what we can bring to the proverbial party!
At Rasa Clay Works – we have chosen to take this one step further by working as a team. Each adds their own perspective to the whole, making art that is truly more than the sum of its individual parts.
We are focused on the practical, the pragmatic, the useful. The world is not in need of more cheap trivialities to add to the endless flotsam of material goods. Instead – well-made timeless wares can truly be the most environmental, sustainable, and nonpolluting choice we can make. Functional art.\
To learn more about Rasa Clay Works, visit: www.rasaclayworks.com
---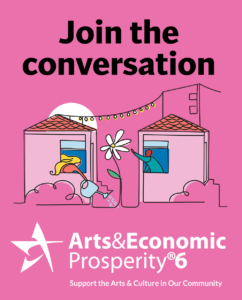 While you're at the VAC, don't forget to join the conversation!
Through April of 2023, we're measuring the impact of non-profit arts and cultural institutions in Lincoln County, as part of Americans for the Arts' Arts & Economic Prosperity Study 6—the nation's largest, most comprehensive study of the Arts & Culture sector…and you can help! When you attend this event, please complete an "AEP6" survey before you leave the building (and every time you attend an event or exhibit at the VAC). 3 minutes, 13 questions, totally anonymous. Look for the iPad located in the lobby, or ask a volunteer or staff member for a paper copy.
To learn more about this incredible study, and what makes it so important, click here.