Registration for the 2022 Newport Paper & Book Arts Festival is Open!

Registration Information – 
The 2022 Festival Workshops will be held in person—with the following exception: Pietro Accardi is teaching Articulated Binding via live Zoom on Friday April 22.
Evening Activities will be announced closer to the Festival—they will include some live Zoom Events.
Workshop Registration Fees are based on the number of days you take workshops. The more days you take workshops, the less it costs per day.
One Day — $140 total
Two Days — $230 total
Three Days — $295 total
Four Days — $360 total
In addition to registration fees, each workshop has a materials fee. These are listed in the workshop descriptions.
Two-Day Workshops There are four two-day workshops being offered. These count as two days in registration fees. The materials fee covers both days. Select the workshop on both days as your first, second or third choice.
Workshop Hours All workshops meet from 9:00am to noon and 1:30-4:30pm. You may not enter your classroom until 8:50am.
Register early  Historically most registrations happens on the first day. Include second and third choices. If you do not get into your first choice and have not included second and third choices, you will not be registered for those day(s). The last day to register or change workshops is April 7, 2022.
Waiting Lists  A waiting list is kept for each workshop equal to the maximum number of students for that workshop. If someone cancels, that spot will be offered to the first person on the waiting list. When a class is Waitlist Only, it is recommended that you provide second and/or third choices. WAITLIST STATUS UPDATED 4/5/22
Registration Confirmation  Within three days of completing your registration you will receive an email from OCCA with the subject line: You received a new invoice. The invoice will list the workshops you are registered in, registration fees and materials fees.
Payment is due within 48 hours of receiving your invoice. There is a link in the invoice to the Square Payment Portal. Square accepts all major credit and debit cards. If payment is not received within 48 hours of your invoice arriving, your registration will be forfeited. If you prefer to pay by check, email Sara at ssiggelkow@coastarts.org for instructions.
Festival Credits  A number of you have a festival credit. The credit will be applied to your invoice.
Refund policy If you cannot attend a workshop for which you have registered, let us know immediately.  We will gladly refund your registration minus a $45 fee. There will be no refunds after  March 12, 2022. The Oregon Coast Council for the Arts reserves the right to cancel workshop(s).
Registration is online only via Google Forms. The time and date stamp will determine your place in the registration queue.  Please take the time to read the rest of the registration information.
To register for the festival click here: http://www.coastarts.org/npbaf-registration
Things to know:
You must fill out the form in one sitting.
You must answer every question.
If you enter a wrong answer just enter the correct one and the wrong one will be deleted.
Once you have submitted the form, you cannot go back and change your answers.
Your form has not been submitted until you see the following: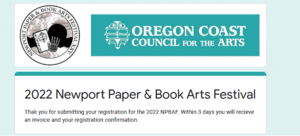 If this does not appear, scroll up and confirm that all the questions have been answered.
Questions Contact Sara Siggelkow, OCCA Arts Education Manager, at ssiggelkow@coastarts.org or 541-574-3364.