Dramatic, Intimate, Oceanside Event Spaces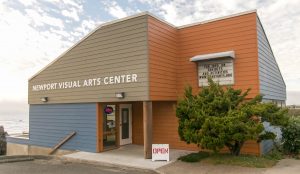 Located next to the ocean and in the heart of Newport's Nye Beach arts district, the Newport Visual Arts Center (known affectionately as the VAC) offers one of the most dynamic event spaces along the Oregon coast. Feel the drama of breaking surf, or a glorious sunset, just outside the full-length windows. Sense the intimacy of being in a space all your own nestled above the beachcombers below. Enjoy the creativity in art galleries throughout the building.
The VAC offers all of this and more. And even better, as a Newport city-owned building, the VAC's rental rates are kept affordable for broad community use. Meetings, luncheons, weddings, bridal or baby showers, receptions, workshops, lectures and more come to life in our conference rooms, surrounded by views of the Oregon coast.
The Newport Visual Arts Center is home to cultural, educational and community-based programs, events and more – make it your creative space for a compelling ocean-side experience. Ask about renting gallery spaces for a truly special social event.
Room 205 Conference Room
The VAC's most-popular rental space, the Room 205 Conference has been used for countless event activities—meetings, dinner parties, art workshops and classes, literary events, weddings, and, even just whale watching. Room 205 enjoys new windows, blinds, tables, chairs and flooring. An adjacent kitchen is available to rent as well.
900 square feet
COVID capacity 22, 75 person capacity (standing), 40 person capacity (sitting)
Full kitchen available
Rates: Commercial $40 hour/$280 day • Nonprofit $25 hour/$175 day • Four Hour Minimum • Kitchen $30

Room 302 Meeting Room
The VAC's smaller Room 302 on the third floor is perfect for board meetings, break-out sessions or even as meet-up space during family vacations.
300 square feet
COVID capacity 6, 25 person capacity (standing), 16 person capacity (sitting)
Rates: Commercial $25 hour/$175 day • Nonprofit $17 hour/$119 day • Four Hour Minimum
Call 541-574-3364 or ssiggelkow@coastarts.org to book rentals.