From March 3 – April 29 the public is invited to view "Coastal Influences," an exhibition featuring the intriguing abstract paintings of Carolyn Cole, presented by Oregon Coast Council for the Arts.
This is the first time Cole's paintings – which have been exhibited from London to San Francisco, New York to New Mexico, and countless places in between – will be shown on the Oregon Coast. "We're honored," said Chasse Davidson, Director of Newport Visual Arts Center, "Carolyn's abstractions are uniquely mesmerizing. We're excited to introduce them to our coastal community."
Also (relatively) new to the area is Cole herself, who relocated to the Oregon Coast in 2019. "After moving [here], my paintings have become more fluid and harmonious," Cole explained, "Lines converge with shapes. Colors morph into each other more often. Subtle influences of the ocean landscape and the forest permeate the work."
"Coastal Influences" will feature new paintings from Cole's ongoing series exploring intense color, rich textures, and organic compositions. The exhibition debuts on Friday, March 3rd. The public is invited to attend a free reception on Saturday, March 18th, from 1:00 – 3:00 pm. The event will feature light refreshments, live music by jazz and blues guitarist Greg Ernst (Blue Variant), and Cole herself will give remarks beginning at 1:30 pm.
Exhibits at Olive Street Gallery are free to the public and can be viewed from 10:00 am – 5:00 pm, Tuesday-Friday, at 777 W Olive Street. Artwork is also on display and available for viewing beginning one hour before all public performances at Newport Performing Arts Center.
---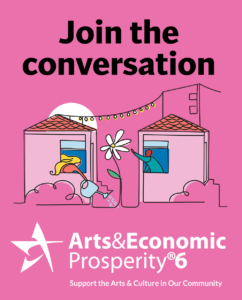 While you're at the PAC, don't forget to join the conversation!
Through May of 2023, we're measuring the impact of non-profit arts and cultural institutions in Lincoln County, as part of Americans for the Arts' Arts & Economic Prosperity Study 6—the nation's largest, most comprehensive study of the Arts & Culture sector…and you can help! When you attend this event, please complete an "AEP6" survey before you leave the building (and every time you attend an event or exhibit at the PAC). 3 minutes, 13 questions, totally anonymous. Look for the iPads located in the lobby, or ask an usher for a paper copy.
To learn more about this incredible study, and what makes it so important, click here.