JOURNEY ACROSS MUSICAL BOUNDARIES WITH RENOWNED JAZZ VOCALIST HALIE LOREN AND THE CENTRAL COAST JAZZ ALLIANCE
Saturday, September 3 at 7:00pm
Oregon Coast Council for the Arts is thrilled to welcome back the spellbinding Halie Loren, who will star in a concert benefitting the Newport Performing Arts Center's upcoming 2022 Oregon Coast Jazz Party.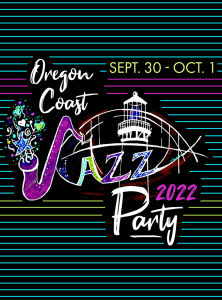 Halie Loren has performed on several occasions at the Center, much to the delight of local jazz enthusiasts. Hailing from Oregon and Alaska, Loren's busy career has taken her to venues all over the world, including shows in Asia, Europe, North Africa, and the Caribbean, as well as across North America. Loren offers up songs in several different languages and employs a range of musical styles–weaving jazz, blues, pop, and world flavors—bringing her fresh approach to original songs and to well-loved standards. Loren's many awards and honors include debuting at No. 1 on Billboard Jazz/Japan, reaching No.1 on the iTunes Canada jazz albums chart, and winning an Emmy for best Music Video from the National Academy of Television Arts and Sciences in 2019. Joining her on stage will be a fine group of musicians. Matt Treder has played keyboards for Loren for many years and also provides excellent back-up vocals. Rob Koeler will carry the "bottom" on bass, and Charlie Doggett will keep perfect time on drums. The performance promises to be filled with a perfect blend of familiar and new jazz selections.
Local jazz quintet Central Coast Jazz Alliance will open the event.  With Bill Hartsell on guitar, John Bringetto on trumpet and flugelhorn, Matt White on saxophone, Greg Berton on bass, and Dr. Sandy Schaefer on drums, the group has been playing venues in Lincoln County and has quickly developed a loyal following.