oregoncoastalquilters.org/quilt-show-2/
Quilts by the Sea 2023
Presented by
Oregon Coastal Quilters Guild
Where:
Newport Recreation Center
When:
Friday, August 4 – 9am-5pm
Saturday, August 5 – 9am-4pm
Admission:
$8/day
More than 300 quilts, plus vendors, a children's corner, guild boutique, raffle quilt drawing, veteran's project display, and much more! Special quilts will be awarded to local veterans four times during the show, and Latimer Quilt and Textile Center, Tillamook, will present a "bed turning" twice each day.
Featured Quilter: Ruth Hutmacher of Newport
To learn more, visit:
www.oregoncoastalquilters.org/quilt-show-2
---
2023 OCQG Raffle Quilt
"Beneath the Sea"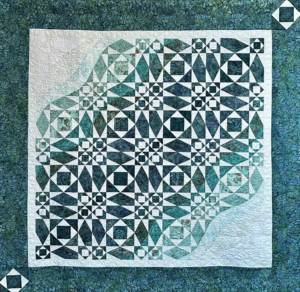 For the guild's 32nd anniversary, a lovely design by Natalie Crabtree was brought to life by more than thirty members of OCQG. Done in shades of teal and cream with quilting designs that include a mermaid, a ship, and lots of fish and shells, the quilt would be a great addition to a bed or to a wall.
This beautiful quilt will be awarded during the show on Saturday, August 5th. Winner need not be present. Tickets are $1 each or six for $5 and can be purchased from Meralee Wilson, 541-563-6651. 
Your purchase helps support the programs of the guild and its many philanthropical activities, including the Veteran's Project and Community Quilters for charities in Lincoln County.
---