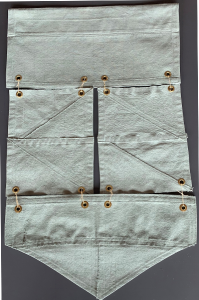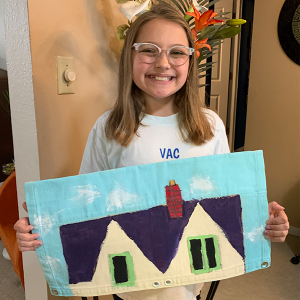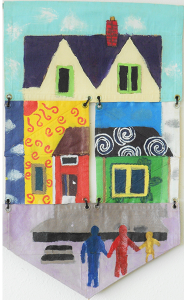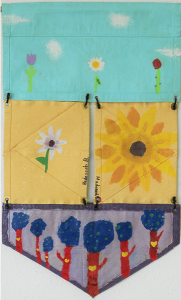 The Oregon Coast Council for the Arts presents a spring Art-to-Go kit for distance-learning for youth and families throughout Lincoln County. In this engaging offsite learning activity, students create tiles of canvas banners that become works of public art that will hang in Newport's Nye Beach arts district. Each participating student receives a banner section and paints both sides–one side has an outline to be painted along and the other side has a theme that can be freely interpreted. When brought together, the different students' works resemble a mosaic on one side and a quilt on the other side. The group banners will then be open to public viewing on light poles throughout Nye Beach (summer through fall).
The Art-to-Go kits, designed for children 6-18 or families, promote creative, project-based learning opportunities and include written instructions and all required materials: One banner tile, 6 acrylic paint colors, a paint brush and a mini-banner for students to paint and keep
Art-to-Go kits can be picked up at the Newport Visual Arts Center (777 NW Beach Dr.) Wednesdays and Saturdays from noon-4pm, or by appointment, at the VAC's main entrance off the Nye Beach turnaround. Reservations are recommended, as kits are limited to 15. A suggested donation of $15 per kit is requested
Contact Sara Siggelkow, Arts Education Manager at 541-574-3364 or ssiggelkow@coastarts.org
---
To sign up for event notifications, community members should join the Friends of the VAC e-Newsletter by visiting https://coastarts.org/visual-arts-center/newsletter/.
The VAC adheres to all health and safety protocol provided by the Governor's Office as well as the City of Newport. All visitors to the VAC are required to wear proper masks and have their temperature taken prior to entry.
---