The Bureau of Land Management in partnership with Oregon Coast Council for the Arts and Friends of Yaquina Lighthouses are pleased to announce the start of an Artist-in-Residence (AiR) program at Yaquina Head Outstanding Natural Area (ONA).
Upcoming Events:
June 5 – Plein Air Paint Out with Emy Syrop 10am-3pm
Parking admission is free for artists. Let the ranger at the entrance gate know you are there for 'paint-out'
Paint on postcard (5″ x 7″) to be featured in the July Artist in Residence Show at Newport's Visual Arts Center
Feel free to move to different locations (within established paths).
Connect with community and share about your artistic process
Be prepared for Oregon Coast weather which may include sun, rain.
Event Schedule:
10:00am – Meet at the interpretive center for Welcome Message and site information.
10:30am – Go to the lighthouse area to paint (or other designated public spaces)
2:00pm – Gather at lighthouse for showcase and closing. (Or Interpretive Center, weather dependent)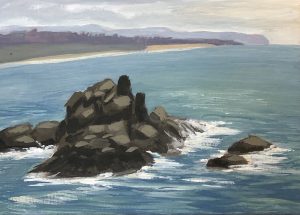 Emy Syrop – Artist in Residence at Yaquina Head Outstanding Natural Area
"I paint coastal landscapes and detailed illustrations of marine life. I most frequently use gouache but work in acrylic, watercolor, colored pencils and graphite as the piece may require. My background as a marine biologist and surfer informs my understanding of the oceans and the lives supported within. I have always lived along the Pacific Coast: first in Southern California and now in Newport, Oregon where I am inspired by the varied coastline, weather and intimate encounters with wildlife.
Plein air painting is my most fulfilling way to paint landscapes as I become a detailed observer of the environment in those moments. Water reflections, balanced colors and open space reconnect the viewer to our environment, promoting stewardship for the lands we inhabit. I enjoy drawing animals and found objects from the beach where I inspect and analyze the details. These layered illustrations invite the viewer to look closer, sparking an interest in the strangeness and uniqueness of marine wildlife and inspiring them to seek out natural spaces where they live.
I work in a limited palette, partly for practicality of painting on the go, but also because most of our natural surroundings are blends of earthy tones and grays. When something calls for a pop of color, like flowers or sea stars, it tends to be from special pigments within the organism, giving me the occasion to use a few additional colors."